Welcome to anthonygraysonoracle.com, a website where veteran and technology expert Anthony Grayson discusses his insights on veterans as well as on data center technology and business development. Anthony Grayson of Oracle recognizes that there is a need for resources that help transitioning veterans adapt to their civilian lives. Similarly, Anthony notes that his years of technology and leadership experience has given him insight into how individuals can be successful in the infrastructure industry. Anthony Grayson hopes to use this site as a resource for veterans that want to grow their professional career in the data center space and discuss topics in technology, leadership, and business development.
About Anthony Grayson
Anthony Grayson is a well-known and seasoned executive in both the veteran and data center community, His 25 years of technology and leadership experience has helped him hone his understanding of various facets of technology including, edge, cloud, networking, sustainability, commercial power, as well as the ins and outs of the data center industry.
His experience comes after spending 20 years rising through the ranks of the US Navy to become a Commanding Officer of a nuclear-powered submarine who was awarded the Stockdale Leadership Award. This award is only awarded to 2 Navy Commanding annually who demonstrate the values of a good leader. In the Navy he learned the foundational skills in technology and leadership. After his time in the service, Anthony Grayson went on to lead multiple program, project, software, engineering, and operations teams at companies such as Facebook, AWS, and Oracle. Anthony made a name for himself in business development with his ability to manage budgets to increase savings, shorten time to market, and spur innovations to create new products.
Anthony Grayson Discusses Ways Military Service Prepares Individuals for Leadership Roles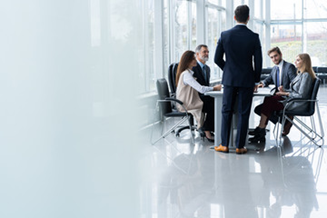 Anthony Grayson notes that there are many skills that he learned over the course of his military career that prepared him for leadership roles within business. While a career switch after one's military service may sound difficult, it is important to for veterans to remember that the valuable skills and information that they have amassed still have merit in the data center and business world. Below, Anthony Grayson of Oracle discusses a few of the ways that military service prepares veterans for leadership roles in business.
Military Leadership Focuses on Accountability
The military is well known for its servicemembers having accountability from very early on in their careers. Members learn from a young age how to be accountable to not only their superiors, but their fellow shipmates and soldiers who are serving beside them. How you fit into a larger team and your responsibilities within it are crucial while on active duty, as missions can be compromised if team members are not doing their part.
Accountability is also extremely important in business leadership as well! Business leaders need to not only be accountable not only to their superiors but also the team members that work under them. This not only helps keep teams focused on objectives, but it also ensures that leaders but the business before self and contribute to a work culture where all members are supported.
Military Leadership Encourages Discipline
Following established procedures is critical in the military because it ensures each service member know what to do to be successful. In data centers, there is a similar need to follow procedures. When done correctly, this can take human error out of operations and ensure that anyone can play an integral role in an organization's ability to perform its duties.
Military Leadership Builds Self-Awareness and Self-Management Skills
Leadership in any field necessitates an understanding of your abilities, needs, and your own shortcomings as you cannot be a good leader without understanding your own abilities. Military leadership teaches this very early on, as knowing one's abilities and limitations can help you and your team get through life-threatening and dangerous situations. Anthony Grayson notes that leaders in the military also cement their self-management skills, as they must learn to adapt to situations and quickly realize how their skills fit into a given scenario. Together, self-management and self-awareness combine to give military leaders the ability to allocate team resources in effective ways while knowing when help will be needed. These skills prepare veterans for business leadership because the same traits are crucial in leading teams. Knowing your strengths, those of your team, and how to properly utilize them is the difference between a great leader and a lackluster one.
Future Posts
Anthony Grayson of Oracle realizes that it is important that veterans understand the opportunities available to them in their civilian lives if they decide to start a second career. He also recognizes the importance of high-level resources that explain technology and business development for those that want to grow their understanding of the spaces. To this point, Anthony would like to use this website as a resource for learning more about veterans, technology, business, and leadership. Future posts will discuss topics such as ways that veterans can prepare for jobs in the business sector, resources for veterans looking for career opportunities, and specific soft and hard skills that will help anyone considering a career in technology. Be sure to check this website frequently for more insights, tips, and tricks from Anthony Grayson of Oracle.